History of a Legend: Defender 2007
Further improvements to our Defender allowed for quieter, more efficient long-distance cruising, without compromising it's renowned off-road capabilities.
Our six-part series tracing the evolution of our iconic 4x4 has so far taken us from 1947 to the original Defender launched in 1990.
The Defender made another step-change in April 2007 when the Td5 engine was replaced by the four-cylinder, 2.4-litre Puma unit.
It used direct injection and turbocharging to generate 121bhp and a huge 265lb-ft of torque, but it also hit the tough new Euro IV emissions regulations. The engine was mated to a revised, quieter transfer case and a new six-speed manual gearbox, which allowed a longer top gear for quiet, efficient long-distance cruising. Not the kind of driving the Defender was originally designed for, but something it is now unquestionably capable of. 'The new engine propels the Defender at speeds as high as 85mph with amazing civility, and the new six-speed gearbox moves with precision', said CAR magazine after a test in which it drove one from London to Belfast in a day.
The engine was revised again in 2011 to meet the new Euro V regulations. The latest engine technology allows it to downsize by 200cc yet maintain its power and torque outputs. It is quieter, and when fitted with the diesel particulate filter, it emits less than any Defender before it.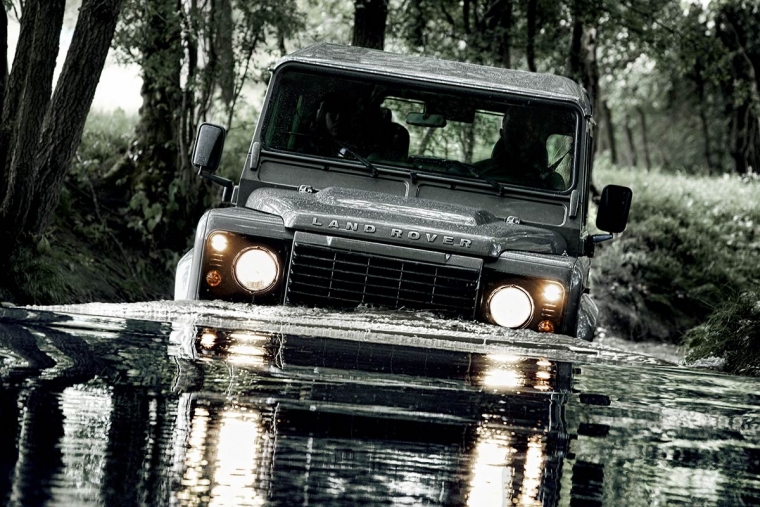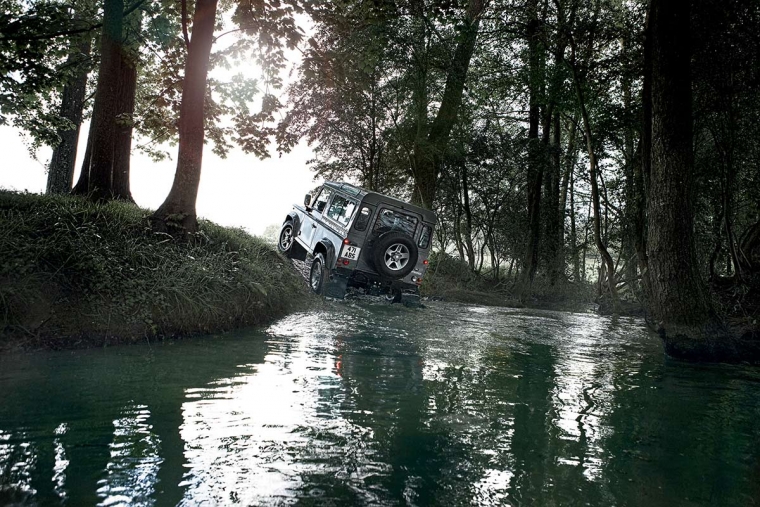 Visually, these new four-cylinder diesel-powered Defenders are distinguished by a distinctive 'bulge' in the bonnet, and by the blanked-out air vents under the windscreen which are no longer needed by the more sophisticated air conditioning. CAR magazine continues: 'Its basic proportions remain unchanged since 1948, but they suit the big alloys and the new power bulge in the bonnet'.
Inside, there's a more modern dashboard with 'eyeball' air vents and controls for the electric windows, heated seats and heated screens, and the four inward-facing rearmost seats on both the three- and five-door station wagons have been replaced by two folding, forward-facing seats. But not on the Station Wagon Utility, a new production body style for this generation of Defender. It's a 110 Station Wagon with no third row of seats and blanked-out side windows to the rear compartment, creating an off-road van capable of carrying a crew of five.
The new engine propels it at speeds as high as 85mph with amazing civility, and the new six-speed gearbox moves with precision.
Further proof of the Defender's endless configurability came at the 2013 Geneva Motor Show and the unveiling of the Electric Defender Research Vehicle. Inspired in part by the silent, electric Defender vehicle it created in 2011 and which was able to observe animals more closely without disturbing them, Land Rover built a fleet of seven Defenders totest the suitability of electric powertrains for use across its range. The 300-volt lithium-ion battery and 94bhp electric motor can propel the Defender for up to eight hours in typical low-speed off-road use, and the electric drivetrain with its huge torque has proved perfect for controlled progress over difficult terrain.
To celebrate the legend, in 2015 Land Rover commissioned the Defender Celebration Series, three very different Limited Edition models, each celebrating a crucial aspect of Defender DNA. The Heritage, Adventure and Autobiography editions were revealed on Anglesey's Red Wharf Bay as six other Defenders, each one equipped with heavy- duty agricultural harrows, drew a one-kilometre outline of that iconic shape in the sands where Maurice Wilks first sketched it. A 68-year adventure was ending where it started.
Watch the Defender being drawn into the sand on Red Wharf Bay as part of 2015 celebrations