Range Rover Design: Then, Now, and What's Next
As Range Rover celebrates its 45th birthday, we spoke to Senior Land Rover Exteriors Designer Andy Wheel about the model's design vision and core values – and how it's pushed boundaries since 1970.
When the 'classic' Range Rover arrived in 1970, it broke the mould. Its unique combination of interior luxury, bold exterior looks and rugged off-road capability ushered in a new segment to the auto world. 
The 45 years since have seen this innovation continue unabated. Three further generations of the core model – including the most recent Range Rover, launched in 2012 – have consistently built upon the elegance and practicality of the original. 
In the past decade, the Range Rover family has expanded at pace, starting with the muscular, performance-driven Range Rover Sport in 2005, then the compact, contemporary Range Rover Evoque in 2011. The latter has won over 160 international awards, many of which recognise its leading-edge design credentials – including the coveted Car Design of the Year from Car Design News in 2010, before it was even on sale to the public. 
Senior Land Rover Exteriors Designer Andy Wheel joined Land Rover in 1999, and has been a key player in the design success of the growing Range Rover family. He looks after the production design exteriors across Land Rover's models, including the New Range Rover Evoque Convertible – another model that has pushed the boundaries and people's perceptions of what a car, and a Range Rover, can be.
He spoke to us all things Range Rover, from past to present to future.   
Land Rover: What do you think the core design ethos behind Range Rovers is? 
Andy Wheel: Our fantastic history of Land Rover products all come from the same mind set: 'let's not just do a different type of Land Rover… let's do something that brings an entirely different type of customer into the brand.' When you think back to the original Range Rover of 1970, the Range Rover Sport, the Evoque – it has always been 'let's do something that's unexpected'.
Were you always a fan of Range Rover before you started working on them at Jaguar Land Rover? 
I'm very proud to be working for the company who made the original Range Rover. If you think of the context of when the car was launched… British luxury brands were doing very ornate products. And then you had the Range Rover. As a piece of product design, it's almost modernist architecture on wheels. The low waist line made it like a viewing gallery, and it was completely unadorned – you can barely notice the door handles on the original. Although it was pitched as an upmarket alternative to the Land Rover, it was still very honest in it's execution. It was designed from the inside out, and designed to be relevant. 
Do you feel like today's Range Rover family still shares a lot of design cues with the original? 
The classic Range Rover set the formula, the recipe for what a Range Rover should be. The great thing is we've evolved the design without completely changing it. We haven't lost those key ingredients – command driving position, interior with a focus on great materials and craftsmanship. It feels like an automobile equivalent of these grand designs projects you see – it has a sense of balance and purity without excess. I like to think that anyone travelling forward in time from the early 1970s and looking at today's Range Rovers could say 'yeh, I see the DNA in that, I can see that there's a logical extrapolation of what made that car so special back in 1970. 
What do you think makes Range Rover models so popular?
I'll tell you an interesting story. In places like the USA, the average buyer of Range Rover has six or seven other cars – high end, luxury products. When those customers were asked which car they'd keep if they could only have one, over 90% said they'd have the Range Rover. That's because it has this unique combination of being a reward for hard work, a symbol of success, but also something you can use all the year round with confidence. There's a real groundswell of passion for what Range Rover stands for. When we ask people what else they want from their Range Rover, they say 'don't change, just make it better', which is simple to write down, but incredibly difficult to turn into a product!
"When you think back to the original Range Rover of 1970, the Range Rover Sport, the Evoque – the mind set from Land Rover has always been 'let's do something that's unexpected'"
Is it difficult to expand and evolve the design of a model that people already love? 
We have gone through times as a company where we've taken the 'brave pill', and expanded Range Rover into a family of products. The first one was the Range Rover Sport. There were all these debates going on about expanding Range Rover into a family of Range Rovers, but we had the conviction to do it and it went on to be a big success for us. 
Was the Range Rover Evoque a similar 'brave pill' moment?
Yes, of course. Everyone said 'no, it doesn't make any sense, there's nothing like it so therefore it can't be a good idea'. That's one of the most depressing things I've ever heard of in my time in the automotive world – 'if it was a good idea, someone else would have done it before'. But there was the conviction to try something new and the Evoque was the results of that. It put design right at the core and showed what we can do. And it effectively created a brand new segment.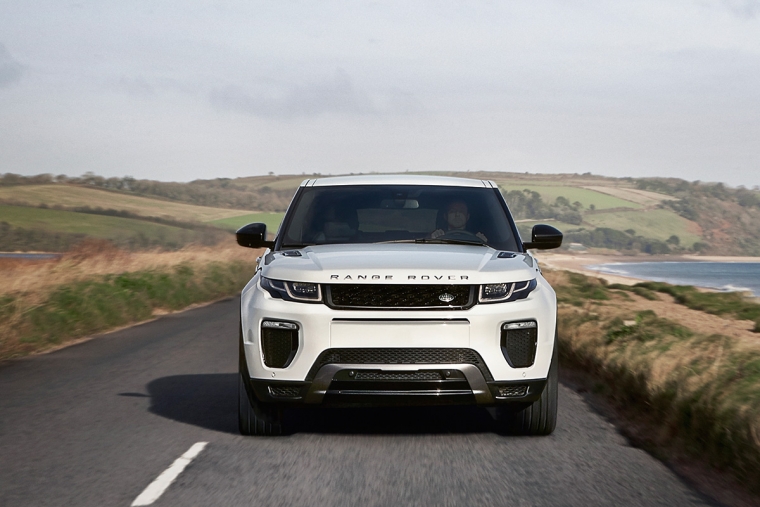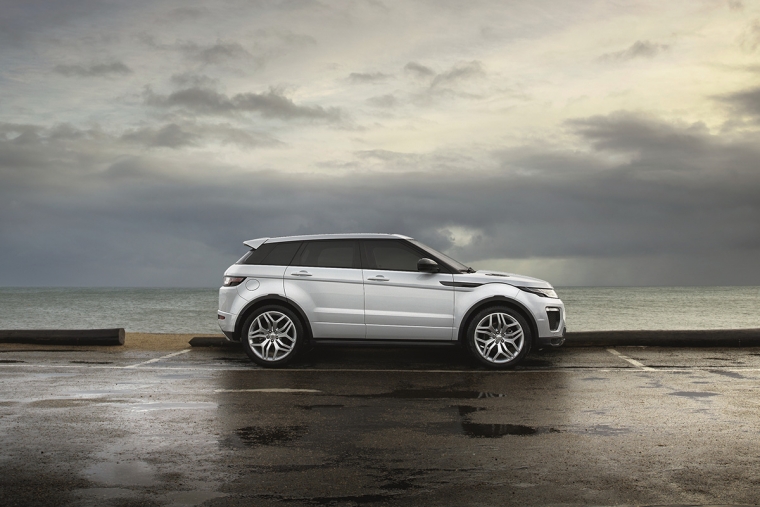 What's new on the design of the 2016 Range Rover Evoque? 
We deliberately wanted a light touch on the 2016 Range Rover Evoque updates. There are lots of small changes – things like integrated direction indicators in the headlights – but it looks like a refreshed product rather than a new one. One detail you might notice is what we call the 'mutant shark' when you look at the car's rear on those vehicles with the panoramic roof. To improve the infotainment and connectivity we needed to have a completely different arrangement of the antennae on the back. We ended up having to put them side by side, and we were thinking 'crikey, this is different'. We went with it instead of trying to find a way that was more conventional, and it's created something that is pretty unique. Something that was driven by a functional requirement and an enhancement of attributes led to an interesting design solution. There shouldn't be a straight jacket to creativity.
"There's a real groundswell of passion for what Range Rover stands for. When we ask people what else they want from their Range Rover, they say 'don't change, just make it better'"
You've also worked on the New Range Rover Evoque Convertible. Talk us through the design process – was it a big challenge to design the world's first luxury convertible compact SUV?
When designing the Evoque Convertible, we decided what we wanted to do was make the result as effortless as possible. We wanted to make it look like we'd just taken the roof off. Which sounds simple… until you realise there's a tailgate you've chopped in half so where are you going to hinge it? Where's the hood going to go? How are we going to eliminate all those extra shut lines on there? We set about doing the difficult thing instead of the easy thing – the result for the customer is something that looks like we've done the simplest thing possible. Delivering it was incredibly difficult but we knew it would be worth the effort. 
To find out more about our Range Rover models, visit www.landrover.co.uk, or click one of the links below: