The Olympian's guide to Show Jumping
At Royal Windsor Horse Show 2015, we spoke with Olympic show jumper Ben Maher about his route to the top, how he handles losing – and why there's no shame in falling off your horse.
Ben Maher is caked in mud, his clothes sodden from an afternoon competing under a relentless downpour at the 2015 Royal Windsor Horse Show. "I'm one of those people who doesn't like to give up on something", the British show jumper says. 
You wouldn't expect anything less from a man who, since taking up riding as an 8 year old, has won Olympic gold and was the first Brit to be ranked world number one for three decades.   
When we caught up with our ambassador, he was on fine form, happy to accept that this year's Windsor was a transitional one as he bloods a new string of horses in competition. 
The 32-year-old was refreshingly forthcoming, opening up about his Olympics experience, the relationship between horse and rider, and his earliest memories of riding. Maher also shared his tips for success for budding show jumpers.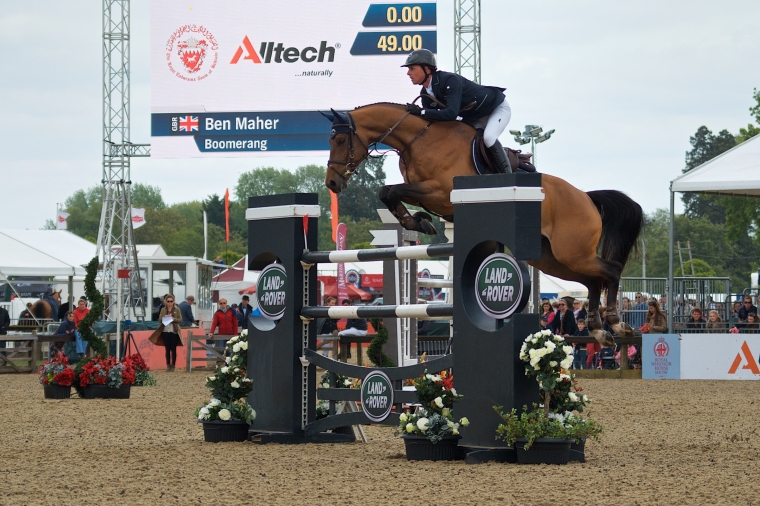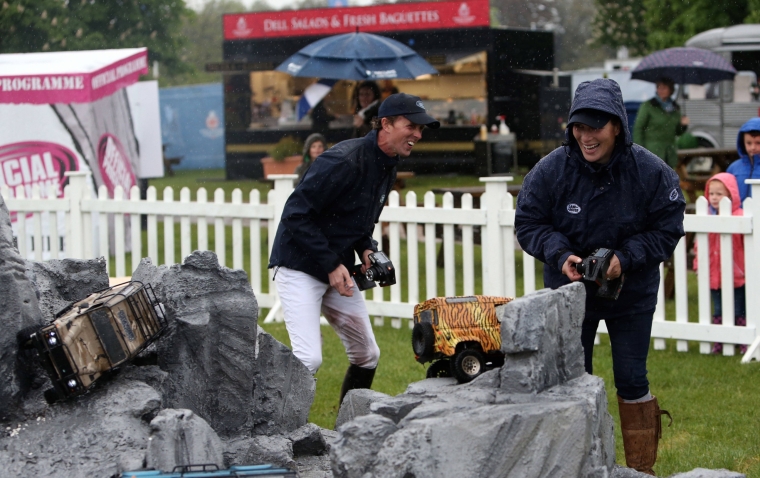 Land Rover: It's great to have you at Royal Windsor Horse Show after the Global Champions Tours in Madrid and Shanghai. How did you find those cities?
Ben Maher: Madrid was beautiful – sunny everyday, while Shanghai was warm as well, but with a different atmosphere. Everywhere is unique in its own way, but there's nothing like being at home, really. It's nice to jump in front of the home crowds at Windsor. 
LR: Does the location affect your choice of horse? 
BM: There are a number of different factors. We try and figure out the horses that like the conditions best in each place. For example, we don't pick horses that dislike the rain on days like today. Also, after a long flight, we have to make sure the horses adapt to the new conditions and change in time.  
Here at Windsor, I have a bunch of horses who are on their first time out. I may not have the best show as far as winning things, but I'm looking forward to building those horses for somewhere else. 
Highlights from the Royal Windsor Horse Show, of which Land Rover is a primary sponsor
LR: What about young show jumpers – do you get much chance to pass on your expertise? 
BM: I've done a lot of that actually. It's important to give something back, and it's fun when you see youngsters improving. I always like to teach younger kids because you can train them how you want, and you're not dealing with bad habits. 
LR: Was it important for you to start so young? 
BM: Looking back, it was important. I had good support from my family when I was younger and we had a little bit of success when I was 11 or 12 years old. At that age, I couldn't really get enough, and there were certain riders whose style I liked. It's strange now – I'm riding with these people every single day and I always told myself that if I keep looking up to them all the time, I'd never beat them. This change in mentality comes with experience and good results. 
LR: That sounds like a great tip. What other advice do you have for budding show jumpers? 
BM: Work hard. Everyone has different backgrounds, but if you're in the right place, you can always move up the ladder. Make sure you have goals and ambitions, and don't stop until you've achieved them. 
"It's important to give something back, and it's fun when you see youngsters improving"
LR: I guess that becoming a world-class show jumper was your ambition – what made you pick this discipline? 
BM: I didn't find dressage thrilling enough, there wasn't enough danger! I tried cross-country when I was really young, but I literally fell off every time I went out, so I kind of ended up falling into show jumping, and I'm happy with the decision. Now I appreciate the other disciplines much more. There are elements of the other disciplines that actually count towards what I do. 
LR: Was there a certain point when you decided to pursue it professionally? 
BM: There were two key points. One was when we won the Hickstead Derby. That was my first big win and it brought sponsors and horses. The other was the horse, Tripple X, that arrived for the London Olympics. I was close to giving up around 2007 – it wasn't really working out. But then Tripple X turned up and changed me life! That was my lucky break. 
LR: How do you handle losing?
BM: Let me put it like this: when I was younger, it probably took me a week or ten days to get over something. Now I probably sulk around for about a day, maybe two. In show jumping, we lose more than we win, and that's quite different from many other sports. You have to pick yourself up quick and move on to the next event. Winning a back-to-back Grand Prix in our sport doesn't happen very often.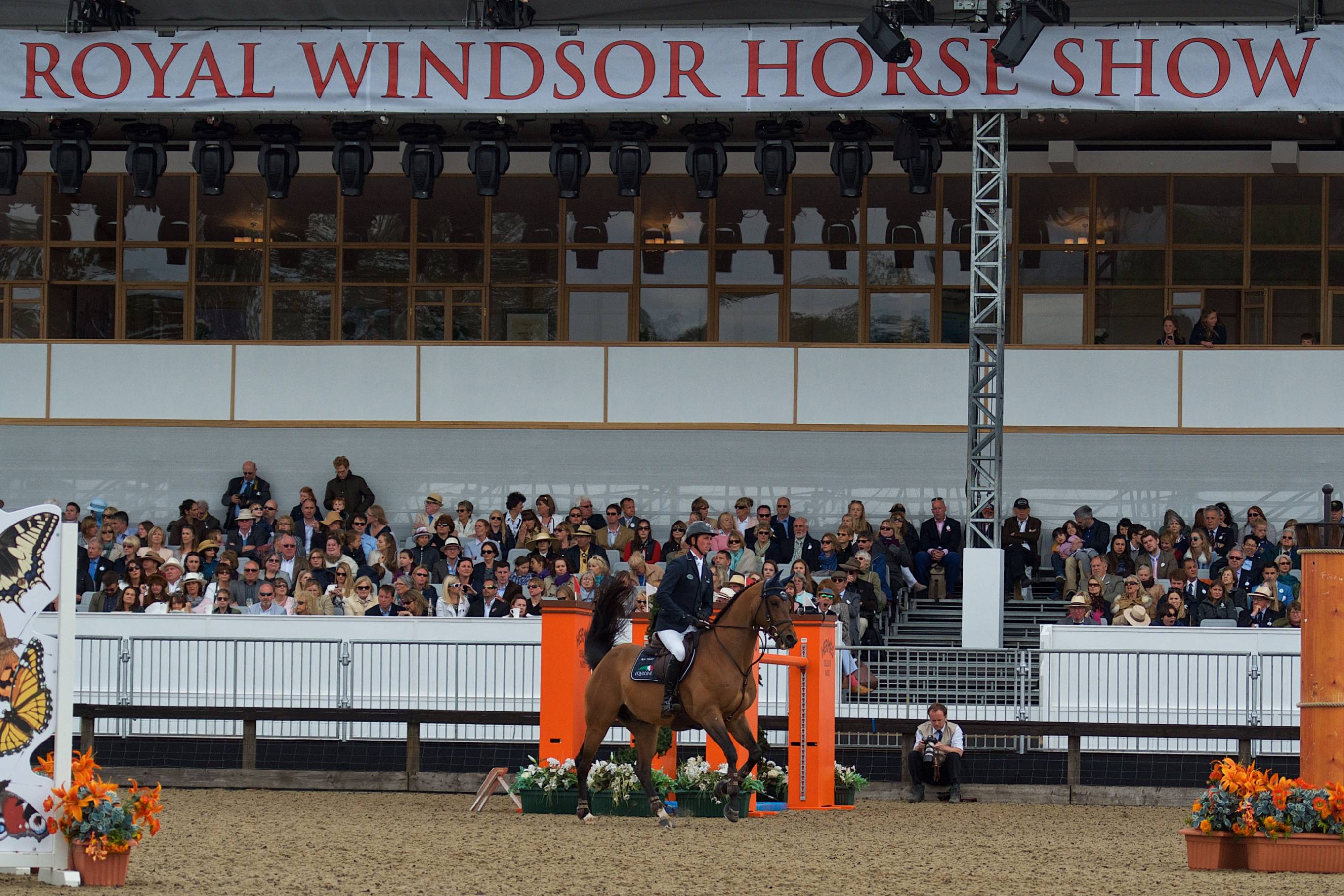 "The best results only ever come when you totally trust your horse"
LR: You won team Olympic show jumping gold on home soil three years ago - how did that feel? 
BM: It was incredible. I was on a horse I had from the very beginning, which has apparently never been done before. There was a lot of sentimental value to that, and I don't think it'll ever happen in the same way in my career. 
LR: Do you feel confident that the Great Britain show jumping team will qualify for the Olympics this year?
BM: First, we have to qualify as a team, and we're not there yet. As soon as we qualify, then the focus is on Rio. You need a lot of things to go your way - I have some great sponsors and owners right now, and a good team of horses. I'd love to be in a position to repeat what happened in London. 
LR: You mentioned the GB team just then – how does riding by yourself compare with riding as part of a team?
BM: It's very different. When I'm riding for myself, I'm only worried about myself. If it goes wrong, I only have myself to answer to. I've learned over time that when you ride for a team, the best results are sometimes not when my day's been the best, but when I've helped the others and kept team spirit up. This is why Team GB has been so successful – our good team spirit helps us pull together. 
"I tried cross-country when I was really young, but I literally fell off every time I went out"
LR: Looking to the future, are there any young show jumpers you feel are destined for stardom?
BM: There's always a new generation coming through. There tends to be a big pool when they're young, and only a couple end up making it. Often it comes down to hard work rather than talent.
In our sport, a lot is down to the horse, and a lot of behind the scenes preparation. If you work hard, you can actually succeed more so than in other sports.
As far as young riders go, there's a few on the fringe of breaking out, and then you have kids like [14-year-old] Harry Charles – he knows the ropes, and he's a very talented rider.