Land Rover and Lumiere light up London
Interactive installations, lifelike 3D projections, and dazzling displays: our partnership with Artichoke helped Londoners see their city - and winter - in a different light.
January 14th–17th saw iconic locations across London transformed for Lumiere London, the capital's biggest ever light festival.
Supported by Land Rover and produced by Artichoke, Lumiere London gave urban explorers a chance to embrace the #Hibernot spirit and see winter time in the city in a new light.
The festival consisted of a series of interactive installations, lifelike 3D projections and dazzling light displays at 30 key sites across the city, from Kings Cross to Oxford Circus, Westminster to Trafalgar Square and beyond. 
The temperatures had dropped as the festival kicked off, and it continued to be chilly across the weekend, giving the city a truly wintry feel. But this didn't stop thousands of people donning their winter coats and getting out to make the most of the breath-taking show.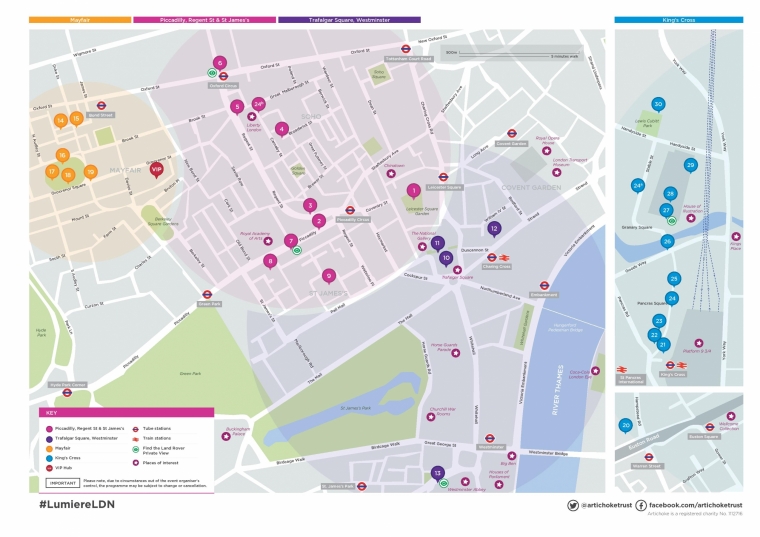 We rewarded these hardy revellers with special #Hibernot private view frames at five locations:
> Oxford Circus – 1.8 London, Janet Echelman/Studio Echelman
> 195 Piccadilly - NOVAK
> The Mall - kinematope, Pablo Valbuena
> Westminster - The Light of the Spirit, Patrice Warrener
> Kings Cross Granary Square - Circus of Light, Ocubo
The #Hibernot frames were positioned at angles and distances that enabled people to best view and take pictures of the dazzling installations – truly helping people to see winter differently this year. 
Browse the gallery below for highlights from Lumiere London, including all five of the Land Rover installations.
Lumiere London Highlights
Lumiere Festival debuted in Durham in 2009. Land Rover were a Major Supporter for Lumiere London in 2016 – the first time the light festival has been held in the capital.
Photography:
Matthew Andrews, Will Eckersley, Richard Seymour