Land Rover Stories
Every Land Rover has a history. This is where we share the rich & entertaining stories which make your Landy special.
Land Rover Stories are a celebration of your treasured 4x4s.
We want to chronicle the unique, funny, moving and dramatic stories behind your Land Rovers, from cherished first memories to unforgettable adventures of a lifetime.
Read on to discover the fascinating histories of these heritage Series models - including the first ever red Land Rover and a lovingly restored pre-production model - and open a charming window into the lives of their owners.
Mike Street, 1963/64 Series II Fire Engine
Mike Street, 1963/64 Series II Fire Engine
I fell in love with Land Rovers when I was very young and working in plant hire. One day I was up in Slough in 1968 when they were starting to build the gas pipeline grid. They were using new Land Rovers there – and said they'd been waiting 6 months for them and couldn't get any more. I said 'I'll hire you one'. So I bought a 1958 2-litre diesel through the local paper and hired it out. My own hire business started from there – now we've got a lot of Landys. 
This one came off the production line as a standard Land Rover, then went to Carmichael Redwing to have the conversion done. They went into service in Coventry in early 1964, and were used in a Land Rover promotional film called 'All In a Day's Work', which was selling all kinds of conversions. Coventry got rid of it in 1979, LW Vass at Bedford bought it… and then they sold it to a printing business in Bristol way, who had it refurbished. There was more restoration through the 1990s, and we bought it a year ago. I'm a bit of a Land Rover nut! I've also got a Series I Fire Engine, a Series II, a Series III, and a Green Goddess.
Amanda Stringer, modified 1964 Series II A
I had a significant birthday last year, and my husband said 'what do you want for your birthday?' I said 'if you want me to continue to sleep in the Alps every summer, I would like a Dormobile'. We couldn't find one so we built one: this is a 1964, ex-military, soft-top Land Rover which we modified ourselves. We got it because it was registered on the 25th October 1964 – my birthday! There were a few modifications when we bought it – 200TDI, disc brakes, power steering. But we kitted it out with all the mod cons – cooker, fridge, toilet. 
It's mainly been to the French-Italian Alps, where our tour company Alpine Rovers is based – we've got it to 10,000ft and it cruises nicely on the motorway. A lot of people say the only way you can go overlanding is if you spend an absolute fortune on the vehicle, but really you just need a well-maintained vehicle and you can go anywhere you want. Next we aim to go down to Gozo, a Maltese island, and after that we want to do the great American trail, from Tennessee to California. Then Australia. Land Rovers have always been in the family – we've grown up with them. They're addictive – you never sell one!
Jan Richardson, 1958 Series II 88" early production vehicle 
This belongs to the Dunsfold collection, which has around 120 old Land Rover cars altogether. It was started by Brian Bashall, a private collector, in 1968. He started collecting pre-production ones and rare ones – Land Rovers that had done peculiar things. This model was one of the very early Series II 88" – which replaced the Series I in 1958. It was originally dispatched to Midlothian in Scotland, then sold to the Ipswich area that year and used as a garage breakdown truck. It was restored in 2011. We've got Land Rovers at home – the oldest is from 1983 – but nothing as old as this, so it was so exciting to drive it. 
Paul Aston, 1963 Series II Forward Control 109
I picked this up three years ago. I thought 'I'll get myself a nice Land Rover 90, a car you can use everyday.' Then I started looking on eBay and the thing at the bottom which says 'other items customers looked at…' came up. The second I saw this I thought 'I want that!' This 109 left Land Rover in November 1963 and went off to Cornwall, where it was coachbuilt into a firetruck. At some point, it was then converted into a pickup truck and worked in East Anglia. It was never road registered until 1988. My gut feeling is it worked on an airbase out in the Fens, dragging cars out of those big ditches at the side of the road. It retired in the mid 1990s and went through a few more owners before I picked it up.  
I drive it on a fortnightly basis and it's brilliant fun. It's a bit frightening when you get into traffic, and reverse parking is a bit tricky – but you can't stop yourself from smiling. I take it down the shops and the flashes still work. Let's just say they know me at the local supermarket!
When I was a little kid we had Land Rover's and I've always just loved them. I passed my driving test when I was 18, and as soon as I could afford a car, I bought a Land Rover. There's something about a Land Rover – it does a job, it's not just a car, it's like a tool. 
Julian Paton, 1948 Pre-production Land Rover 16
This was used as the Land Rover factory runaround, starting all the way back in 1948. It'd be moving parts around the factory, with a trailer, or it might run up to the fish 'n' chip shop to buy the employees lunch. "Mr Land Rover" Roger Crathorne used to ride around in it when he was a much younger employee at the factory. I part own it with a friend, and it's a special vehicle because it's pre-production – the 16th of 40. They were used as demonstration vehicles, and the first forty all had galvanised chassis, which makes them very distinct. 
Land Rovers are special because they create adventure – they fuel the imagination in people of what they can achieve. People love four-wheel drive because you can go anywhere. I've always owned Series Is and I spend all my free time tinkering with them. We're planning to take this one across Northern Spain for the 70th anniversary year in 2018. We'll do San Sebastian to Barcelona with another pre-production vehicle we have which was sent to the Spanish agricultural ministry as a demonstrator. We know where it was demonstrated so we're going re-run those tracks. 
Colin Sargeant, 1948 Series I 80-inch
These is the very first red Land Rover. It was ordered by Derbyshire Fire Service at the end of 1948. There were four vehicles, consecutively numbered – and as far as we know this is one of two that still exist. When I bought it we didn't know its history, but when we found out we decided to paint it poppy red when we restored it. It was never kitted up with any fire service equipment back in 1948 – that came later on. 
I started off as a young man off-roading Land Rovers and playing with them. I guess as I've matured I've become more of an enthusiast. Now I enjoy looking after the classic cars and showing them off.
Peter Stevens, 1955 Series I 86-inch SAS modification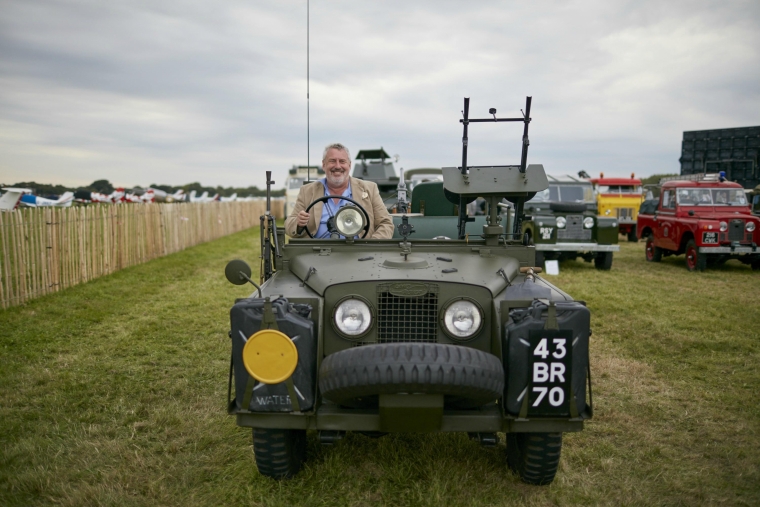 This is the only one of its kind. It's a 1955 prototype, designed as a military vehicle for the SAS. As I understand it they made one on the 86-inch wheelbase, and then they made a batch of eight on the 88-inch wheelbase a couple of years later. This is the only 86. I believe it had service in Oman, which would have been in the late 1950s. I bought this about five years ago, when it hadn't run for 20-odd years, and had it restored. I was attracted to it because it's a very rare Series I Land Rover. I've got a bit of an obsession with collecting them – I have 11 ranging from 1948 to 2015. I think Land Rovers have a great simplicity. They do what they say on the tin, it's as simple as that. 
Stuart Hibberd, 1962 Series IIA Forward Control 9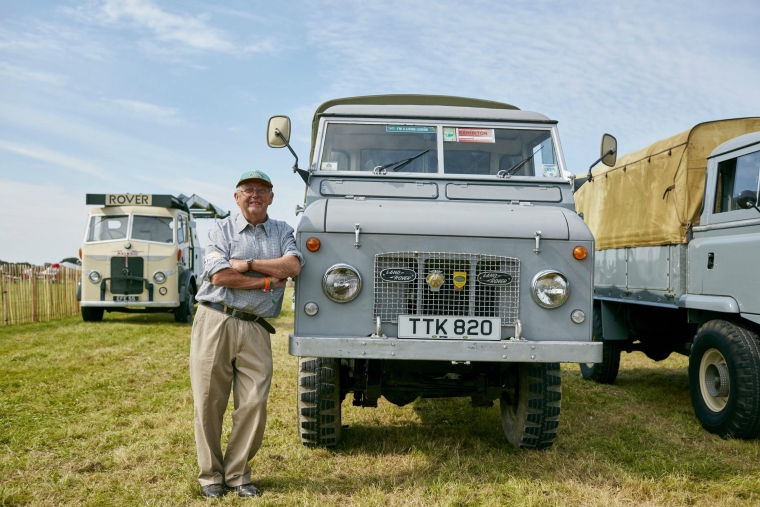 We fell in love with Land Rovers in 1948, and my dad bought one for our farm in 1951. They used to have national Land Rover rallies at the factory so I went there as a young lad in 1957 – I'd not long passed my driving test. There were 71 competitors, including the army and the London-Singapore Overland team… and I came second. Then I went the next year and came first. I kept winning all the Land Rover rallies and trials. 
We picked this one up from the factory in January 1963, after there was a very bad year of weather. All the roads were blocked, so I went around all the butchers and delivered meat for them. We sold it because we moved farms and didn't need it. Then one day I was looking through the Land Rover Owner magazine, and I saw an advert for a "very distressed" Land Rover which had been in an accident. I looked closer and realised it was mine. We brought it back home in 1995 and restored it – now it's just like it was when we had it originally. 
Bill Newport, 1948 pre-production Land Rover 19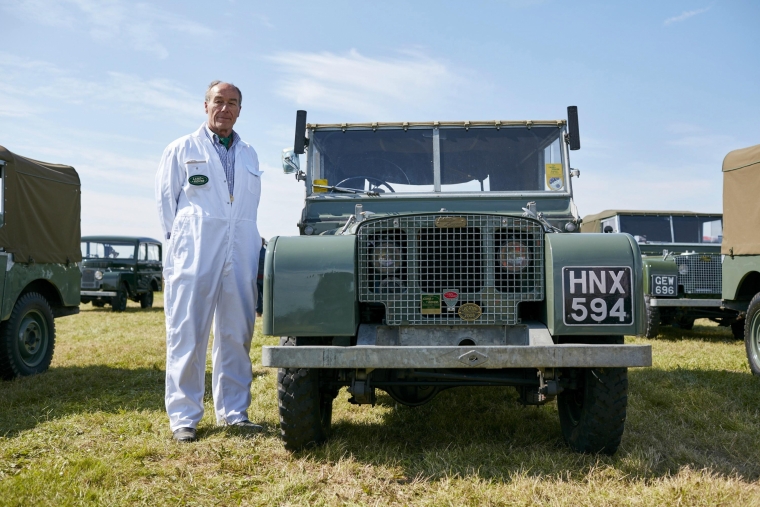 This pre-production Land Rover spent most of its life on a farm near Warwick until the clutch went. It was traded in at the local garage, where they repaired it and used it as a breakdown truck for a number of years. I acquired it in 2002 and done a bit of fettling and tinkering of little restoration details, like putting in a heavy duty 'tropical' radiator, a development part that never made it into production. 
I started picking up Land Rovers in about 1969, and I used to do off-road trialling. In those days it was gentlemen's trials – we weren't gung-ho, we just went for a bit of fun. They weren't time trials – they were proper trials based on driving ability and skill. 
I spent 20 years supplying Land Rovers to countries that were evolving from civil conflict – Afghanistan, Angol, Mozambique, Cambodia, the Balkans, Georgia, Somalia – working with organisations that were clearing up the debris of unexploded mines et cetera. We did various conversions – turning some into basic field ambulances so that they could be stationed at each minefield clearance site. 
I do have more Land Rovers – it's a bit of a bug! I have a Tickford Station Wagon, and number 24 of the pre-production vehicles. I've also got various other Series Is. My most modern one is a pre-production coil-spring One Ten.
Nick Parr, 1956 107" Series I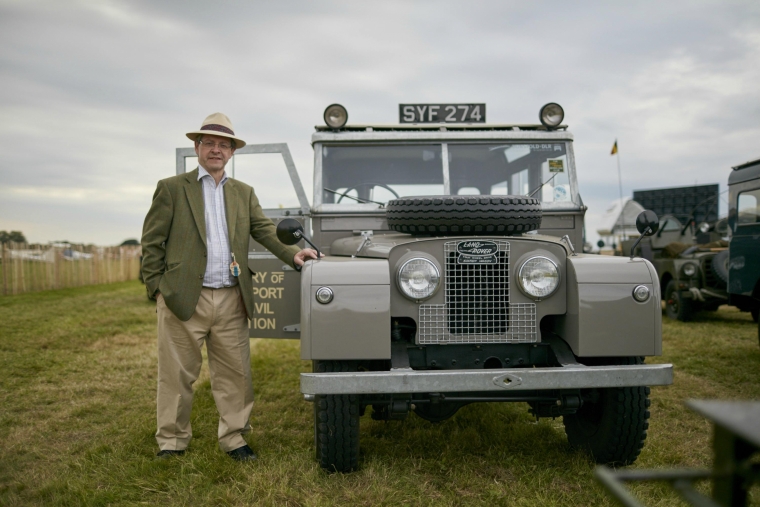 We believe this 107 is one of just two that were specifically manufactured by Land Rover to clear snow from airport runways. It was configured with a special gearbox that enabled it to move very slowly. I had been looking for a 107 and was going to see one in Cornwall. On the way there I was reading in a magazine about snow-blowers, and when I got there I this one was the same thing I'd been reading about. It was pure fluke, but a very great coincidence. 
I've been interested in Land Rovers for 30 years. I love them for their character. They're noisy, they're draughty, they smell a bit – but they've got a lot of character. And they've done so many things – if you turn on the news to any situation in the world that involves an emergency, there'll be a Land Rover in the picture.