Real Clubs, Real Stories
We've scoured the globe to bring to prominence clubs who embody the #WeDealInReal spirit
In communities across the world, there are clubs who defy the odds every week to field a side and take on harsh conditions, uneven pitches, and logistical nightmares to play the sport they love. 
These clubs epitomise the values of camaraderie, sportsmanship and hard work that form the very spirit of the game, and we are proud to tell their stories.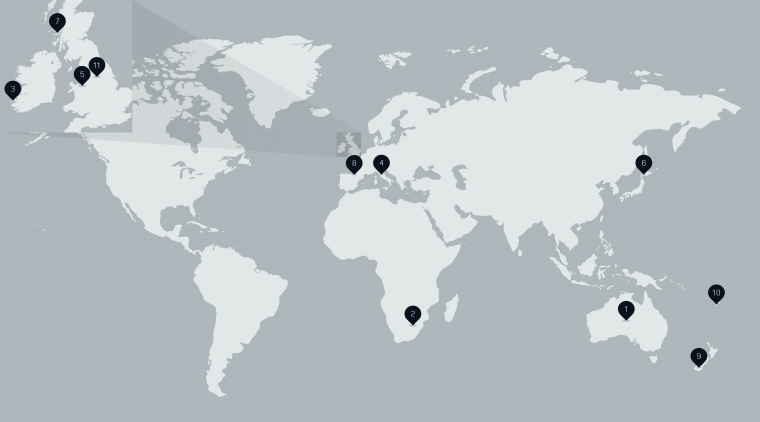 Dingo Cubs Rugby Union, Australia 
The Dingo Cubs do more than just play rugby in Alice Springs. They endure temperatures that most of us would struggle to even walk around in – the mercury often rising above 40°C. But they are unfazed by the heat, thanks to their secret weapon, their septuagenarian water boy and his unquenchable dedication to keeping his team hydrated. 
#WeDealInReal: Dingo Cubs Rugby Union, Australia
Soweto Rugby Club, South Africa 
The rugby team in this famous former township distil the game to its very core, pouring their heart into every match. They are proud of both their heritage and their rugby – bringing the two together in what they affectionately call the 'Soweto Haka'. This old Zulu war dance was historically performed by Zulu warriors before going into battle, an apt precedent for a club full of fighting spirit.
#WeDealInReal: Soweto Rugby Club, South Africa
Rugbaí Chorca Dhuibhne, Ireland
Welcome to rugby on the edge. Europe's most Westerly rugby club, Chorca Dhuibhne is a tiny club based seven miles outside the remote town of Dingle, where most of the locals call Gaelic their native tongue. The club lack the funding to level their uneven pitch, so visiting sides must embrace the challenge of playing uphill for half a match. They often struggle to field a fully-fit team due to the size of the community, but never let that stop them, as players of all ages get stuck in. With the Kerry Cup in their trophy cabinet, they're proof that glory comes from passion, not postcode.
#WeDealInReal: Rugbaí Chorca Dhuibhne, Ireland
CUS Siena, Italy
CUS Siena probably have the worst pitch in Italy. It's not much more than a giant sand pit. Other teams hate playing on it, but Siena have come to love their pitch. It's not only their secret weapon (they won every home game last season), it's also their identity. Matches end in classically Italian style, with a stirring sing-along before a bowl of pasta and glass of wine.
#WeDealInReal: CUS Siena, Italy
Clwb Rygbi Y Fflint, Wales 
Flint RFC represent the essence of grassroots rugby. They are a collaborative, player-run club where everyone mucks in and takes turns at everything. Their battered old team bus never starts without a push. Yet everyone gets behind it and, just like club itself, it marches on thanks to the unstoppable power of teamwork.
#WeDealInReal: Clwb Rygbi Y Fflint, Wales
Hokkaido Barbarians, Japan
It began with five founders and a passion for the oval ball. Now, 40 years on, nestled in the forest-covered mountains of Jouzankei, the Barbarians have grown into a club with teams spanning men and women, young and old. And the founders? Their passion lives on. At 67, they're still there, and still playing competitively twice a week.
#WeDealInReal: Hokkaido Barbarians, Japan
Mull Rugby Club, Scotland
Mull is a remote island of just 3,000 inhabitants, with villages scattered up to 50 miles apart. Rugby is the one thing that brings them together. Boat trips to and from training and matches are all part of life at the club, for home players and especially for visiting teams. Yet, for those hardy enough to brave the elements, the hosts certainly make it worth the journey.
#WeDealInReal: Mull Rugby Club, Scotland
Bidart Rugby Club, France
A rugby club's biggest star isn't always a player, as 'Chip' the club mascot proves. Based on a chipiron – a local squid fished off the coast of Bidart – the young man under the costume has taken it upon himself to represent the club from the sidelines. And, just like the team itself, he has the whole town behind him.
#WeDealInReal: Bidart Rugby Club, France
Upper Clutha RFC, New Zealand
"A green paddock, in front of a crystal clear lake, surrounded by ice-capped mountains, under a blazing sun". That's how Upper Clutha's manager describes his rugby ground. And he isn't joking. Yet, in this expansive paradise, temperatures can plummet to as low as -20°C. Not that these guys let something like the weather get in the way of their greatest passion.
#WeDealInReal: Upper Clutha RFC, New Zealand
Daveta Rugby Club, Fiji 
Rugby isn't just a sport here in Rukurukulevu, it's a way of life. From the moment they can stand, babies have rugby balls in their hands. Despite having very little, the team thrives, thanks to the support of the whole village – from the women who wash their kits to the priest who blesses them before each game. In Daveta Cuve, the team is the whole community.
#WeDealInReal: Daveta Rugby Club, Fiji
Halifax RUFC, England
Halifax RFC was a successful professional side until tragedy befell them. To save the team from extinction, they chose to start again – right at the bottom of the very lowest amateur league. Did it matter? Fuelled by their indomitable Yorkshire spirit and a rousing Shakespearean monologue before every match, it did not.
#WeDealInReal: Halifax RUFC, England