Hannah White's extreme sailing challenge
Solo sailing expert Hannah White swaps long-distance sailing for a short-distance challenge to find out what it's like to compete at the Extreme Sailing Series.
Trying to compare the Extreme Sailing Series with what I do, offshore sailing, is almost impossible. They're very different sports.
Sure, you're both using windpower, you're on boats and both can be highly competitive – but it's like comparing rally driving and Formula One. 
I sail very long distances on my own and have to do everything myself. I have to navigate, sail, cook, be my own doctor… Whereas these guys, they're racing as a team, very, very fast around a track – often up to 56 km/h – with spectators cheering them on. 
It is stadium racing with 40-foot boats powering around a tight course. Their races last 15 minutes; mine can last 15 days. They have to make decisions in a split second; I don't make any decision until I have had a cup of tea.
I've been part of the Extreme Sailing Series as a commentator since 2011, so I've got to know the 11 teams really well. We see the best of the best competing: England's Sir Ben Ainslie and Leigh McMillan, America's Morgan Larson, Austria's Roman Hagara – Olympians, World Champions, truly the world's ultimate sailors. 
Each year we travel to eight different city venues for four days of racing, with up to 30 races across those days. The energy and excitement are extraordinary.
Hannah White's Extreme Sailing Challenge
This year we've been to Singapore, Oman and China, and in St Petersburg, Land Rover convinced skipper Roman Hagara and tactician Hans Peter Steinacher from the Red Bull team to let me join as a crew member during a practice session. I knew that Roman was going to give me a tough time. He's a hard taskmaster and a perfectionist. He doesn't give anyone leeway.
From the moment I stepped on the boat, I knew he was assessing me. It's easy to see how comfortable a sailor is by how they move across the trampoline – the netting between the hulls – while the boat's in motion. The secret is to keep your centre of gravity low as you run from one side to the other.
There were five of us on the Extreme 40 (called this because the boats are 40-foot long), and except for Roman, who steered the boat and shouted instructions, all of us were running from manoeuvre to manoeuvre; hoisting sails, then getting them down, loading the winches, ducking from the boom, watching the wind so we could make fast tactical decisions and keeping an eye on the other boats. And all of this happened at speed – and when you're that close to the water it feels pretty full on. 
Part of the thrill for these sailors is that they are competing against their peers – the very best, and anything can happen. Take Sir Ben Ainslie, he's the most successful Olympic sailor of all time, but here he's racing in a different boat and a different format – and he's not always on the podium!
We all know that Ben is generally unstoppable on water, so it's really good to see it mixed up with the competition wide open – anyone could win. There's amazing camaraderie between the teams, but as soon as they're on water, they are relentless.
Last year's final was the most exciting one I've ever seen. It was between Leigh McMillan (The Wave, Muscat) and Morgan Larson (Alinghi). Leigh had won the Series the year before and was absolutely gunning it to make it a second consecutive win; while cool, calm Californian Morgan wanted to win more than anything else. Their friendship, as strong as it was, was tested right to the limit. 
"There's amazing camaraderie between the teams, but as soon as they're on water, they are relentless"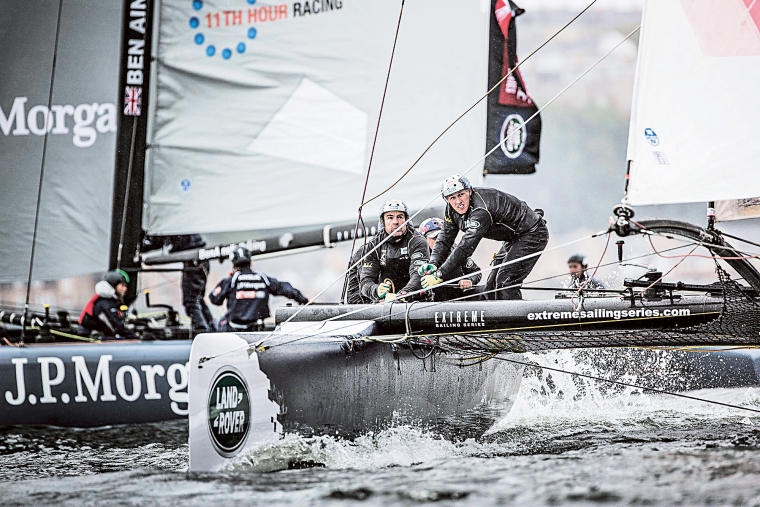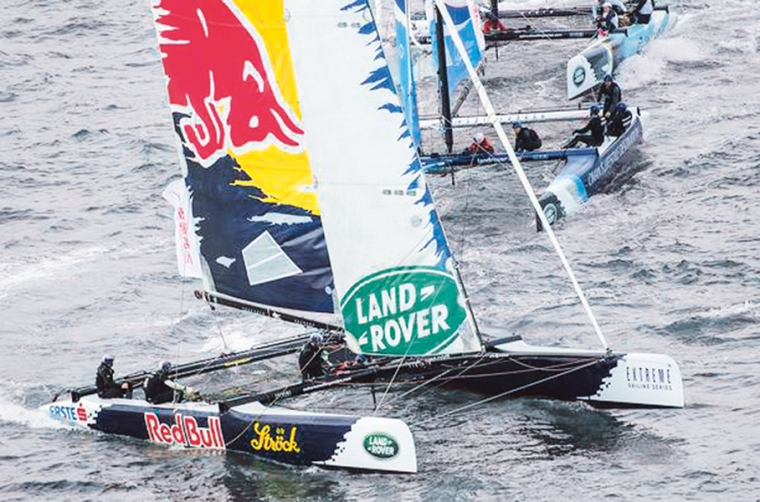 It came down to the last race, the final Act in Brazil, it was neck and neck and all of us on shore had our hands over our mouths as we watched them race. While Morgan won the Act, Leigh won the overall Series and the look on his face after all that commitment was fantastic. But I think he needs to watch out for Morgan this year – he's pushing hard to take the title.
We've seen a lot of action this year already. There was a collision in Qingdao, when Red Bull T-boned into Alinghi. They were on the start line and as Alinghi had right of way, Red Bull tried to cut in behind them. But they caught a gust of wind and ploughed into Alinghi. 
The Austrian team is known for being very meticulous, very prepared. They focus on the details, so this was really unnerving. Luckily no one was hurt and the beauty of these boats is that they can be rebuilt quickly, but it does show that the teams have to push themselves so hard and cut things so fine that these types of incidents are inevitable.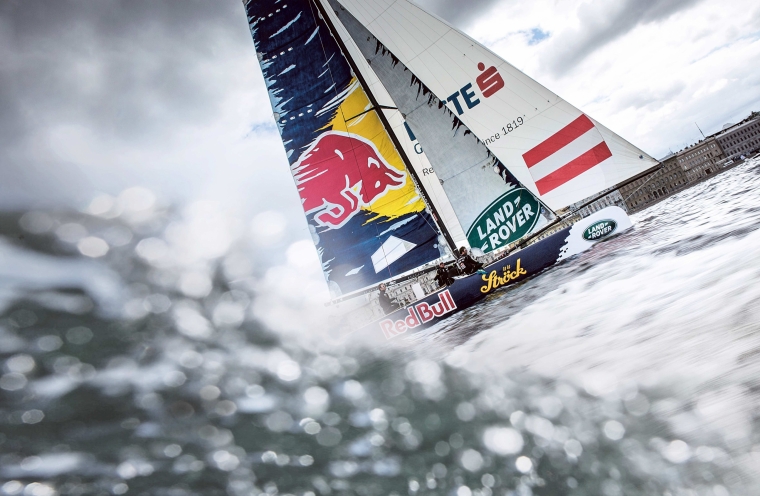 I still think it's amazing that I get to do this as a job – both this Series and offshore sailing. I loved my time on the Red Bull boat – I think this type of sailing suits my physique, suits my love of adrenaline and my strength. 
Right now, it couldn't be tighter at the top of the leaderboard. We've completed the majority of the Series, with the final, the jewel in the crown, in Sydney harbour in December. As the Series has gone on, the competition has gone up and up. It's going to be a close one – again. 
WORDS:
Hannah White
Photography:
Lloyd images & Joris Van Velzen