A Convertible For All Seasons: 10 Reasons Why
From off-road technologies to wind deflector and ski hatch options, New Range Rover Evoque Convertible is a no compromise, all-seasons car. We pick 10 key reasons why.
When we were creating the New Range Rover Evoque Convertible, we knew it would be great fun to drive, beautiful to look at and desirable to own. 
But that wasn't all. We wanted the world's first luxury compact SUV convertible to be the car that lets you enjoy the best of all four seasons. 
Whether you're heading out for a day on the slopes or at the beach, a spring camping trip or an autumn off-road adventure, the Range Rover Evoque Convertible has the capability to do it all.
Our luxury all-seasons, no compromise Range Rover Evoque Convertible is revealed
From its state-of-the-art all-terrain technologies to special roof-down features and storage options, this is the car you can confidently drive anywhere – anytime of the year. Read on to find out why.
1 – All Terrain Capability
As with all Land Rover vehicles, New Range Rover Evoque Convertible is built for the rigours of all-terrain driving. Our trademark off-road drive capability and superb on-road agility are enhanced by a suite of technologies. Terrain Response tailors the car's steering, throttle and stability to take into account the terrain, from mud, sand or snow to grass and gravel. The intuitive All-Terrain Progress Control system – a no cost option – maintains smooth progress in challenging off-road conditions at a speed set by the driver. Hill Descent Control and Hill Start Assist aid you when driving down or pulling off on slopes, while Active Driveline –standard on the 2.0L petrol engine – automatically switches between two and four wheel drive to suit the conditions.  
Read our in-depth Technology Guides to find out more:
2 – Z-Fold Convertible Roof System
When the rain clears and the sun emerges on your scenic coastal drive, you can be in the open air in moments with Evoque Convertible's sophisticated Z-Fold roof system. The polyacrylic fabric fixed-bow, electronically operated roof – developed with Webasto, world leaders in automotive convertible roof systems – takes just 18 seconds to stow and 21 seconds to deploy, and can operate at speeds up to 30mph. It's quiet too, with four electric motors providing a near-silent operation. When deployed, the roof creates a crisp silhouette, and its acoustic and thermal inner lining reduce road noise and insulate the cabin. When stowed, it folds 'flush', disappearing into the car's rear body for a sleek, stylish appearance. 
The acoustic insulated roof operates at speeds of up to 30mph
"Range Rover Evoque Convertible offers the best of both worlds: the crisp, precisely designed contours of the coupé's striking silhouette with the roof closed, and the excitement of top-down motoring with it open."
3 – InControl Touch Pro
The new InControl Touch Pro system is Land Rover's most advanced infotainment system yet and is currently exclusive to the Evoque Convertible. Sophisticated navigation aids – displayed on a new 10.2-inch multi-touch screen – should make your journey simpler, all year round. The InControl Connect Pro package includes Door 2 Door journey planning, which uses the Route Planner App (iOS or Android) to help you to navigate via foot and public transport, if necessary, as well as by driving. Arrival Mode automatically shows a 360-degree view of your destination and easy access to nearby parking as you reach 200m away, while the Live feature brings you up-to-date weather forecasts. So on icy or sandy roads, or in tricky snow or rain, you'll be able to devote more of your attention to driving. These features are available alongside the more familiar InControl Apps, InControl Wi-Fi and InControl Remote Premium.
4 – Heated Seats
Evoque Convertible is furnished with Oxford leather memory seats with lumbar support as standard, so you're sure to be travelling in comfort and style. Additionally, climate front seats with or without a massage function can be selected, for that extra level of luxury and cosiness for when you've got the roof down in chilly weather.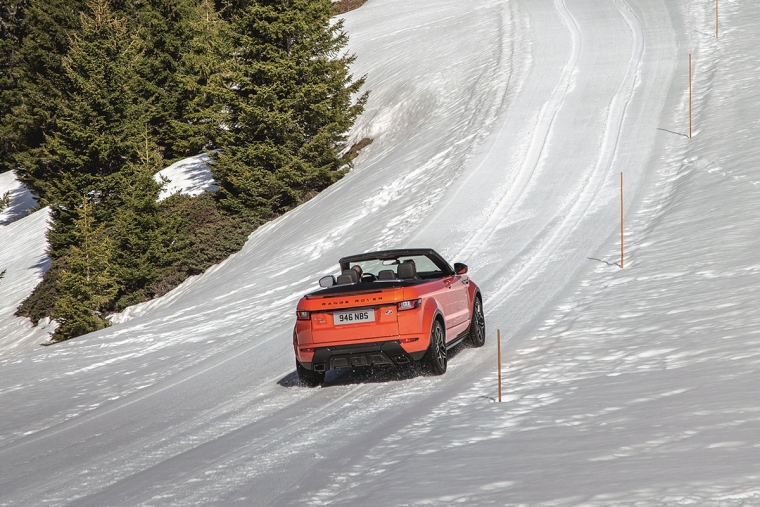 5 – Convertible only features
The great thrill of owning a convertible is driving with the roof down and taking in the sights, sounds and smells of the open air. We wanted to offer peace of mind to drivers and passengers and make sure they were getting the best out of the experience. An optional Wind Deflector improves front-seat comfort when the roof is down and the rear seats are not in use through the reduction of airflow from the rear of the cabin. 
In the unlikely event of a roll-over situation being detected, our Roll-Over Protection System, concealed behind the rear-seat headrests, will deploy in 90 milliseconds:
Roll-Over Protection System ensures your journey is as safe as it is comfortable
"Roof down motoring is in our heritage. It started 68 years ago when we produced the original Series I Land Rover."
6 – Driver Aids
Several driver aids contribute to Range Rover Evoque Convertible's no compromise, all-season drive comfort. In windy conditions or in poor visibility, Lane Departure Warning and Lane Keep Assist can make driving more relaxing and safer. Both use forward-facing stereo cameras to monitor the road ahead and detect if a driver is veering out of their lane without indicating. Lane Departure Warning will vibrate the steering wheel to alert the driver, while the optional Lane Keep Assist uses the electric power-assisted steering system to gently counter-steer the car to keep it in lane. 
Evoque Convertible can wade to a depth of 500mm, so shallow water crossings are handled with ease. But during off-road driving, or where flooding has occurred, optional Wade Sensing removes uncertainty by tracking the water depth around the vehicle and displaying this on the infotainment touchscreen, while an audible alert increases as depth rises. 
Read our Wade Sensing Technology Guide to find out more. 
7 – Occupancy Space
In years gone by, convertibles have had a reputation for lacking passenger and storage space. But not the Evoque Convertible, which has enough space to make it a great holiday car all year round. All models feature full size rear seats – so you can comfortably fit friends or family in the back. In addition, the car's distinctive letter-box style luggage compartment provides 251 litres of storage space with the roof open or closed, enough space for you to easily store a standard golf bag or baby buggy. A new tailgate with single pivot top-mounted hinges has been developed to allow easy access to the boot.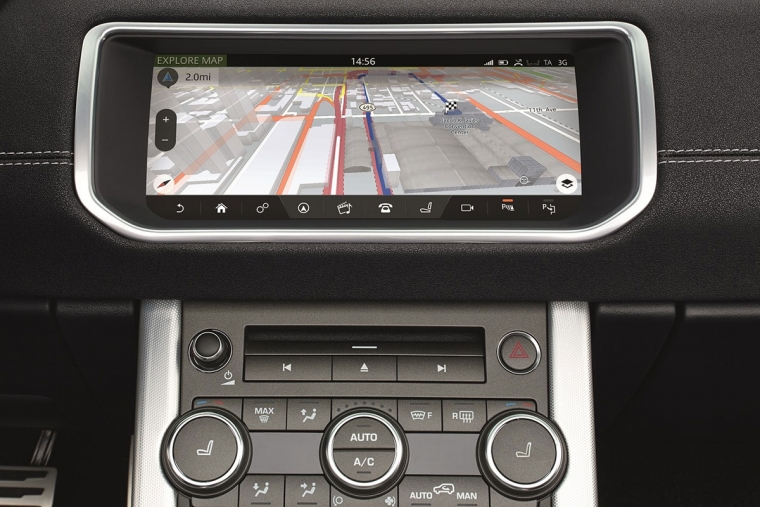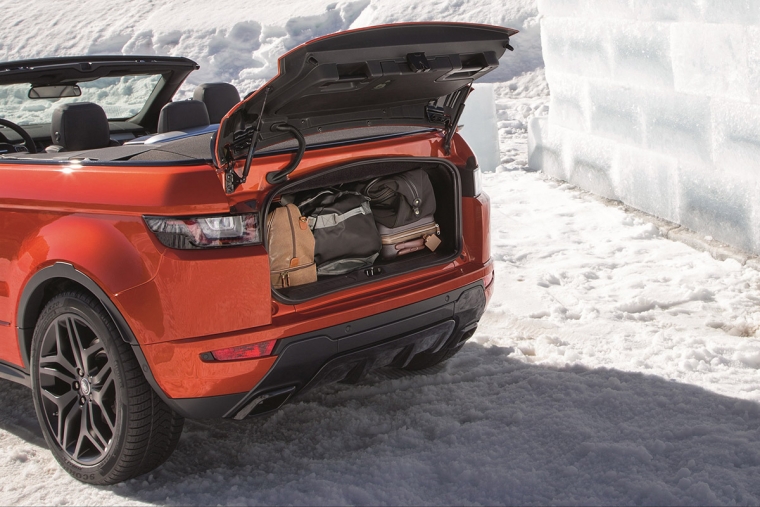 8 – Ski Hatch 
If you like nothing better than a spending a crisp winter's day on snowy slopes, Evoque Convertible can make the journey simple. Transport your gear with the optional Ski Hatch, which allows through loading of skis or other long objects from the boot through to the passenger cabin. The Ski Hatch option – which is standard on HSE Dynamic Lux – has the added benefit of adding a rear centre armrest with cup holders.
9 – Towing 
Whether you want to tow your caravan to a spring country retreat, or your boat down to the water for an autumnal day on the lake, Evoque Convertible's 1,500kg towing capability can handle it. For those needing additional practicality, an accessory detachable tow bar can be specified. 
"Evoque Convertible is not only the world's first convertible for all seasons, it's also every inch a Land Rover."
10 – Fog lights & Adaptive LED headlamps 
Underlining Range Rover Evoque Convertible's all-weather, all-season driving credentials are the car's fog lights and Adaptive LED headlamps. Both can be invaluable to you in tricky weather conditions where visibility is compromised. Fog lights come as standard along with powerful Bi-Xenon headlamps. The cutting-edge Adaptive LED headlamps – which automatically follow the driver's steering for enhanced safety – are an optional extra.  
New Range Rover Evoque Convertible is available to pre-order now, and will go on sale in April 2016. 
Download a Brochure or Build Your Own below.