Future Technologies: 10 of the best
Look into the future of auto technology, from a car you can drive with your smartphone to one that detects potholes and even monitors your brainwaves.
Haptic accelerator, self-learning car, Mind Sense, remote control driving… these might sound like fictional gadgets from a James Bond film. 
In fact, they're very real technologies currently in development by Jaguar Land Rover's dedicated research teams and engineers. All these and more – such as Pothole Alert systems and self-learning cars – are intended to improve the ease, quality and safety of your drive while still leaving you in control.
Below, we introduce ten examples of ground-breaking Land Rover technology, which could be featured in your cars of the not-too-distant future.  
1. Transparent Trailer
Whether transporting a trailer, caravan or horsebox, many Land Rover drivers take advantage of our vehicles' unrivalled towing capabilities every day. Making towing safer and less stressful for our drives is of paramount importance to us. That's why our researchers are developing Transparent Trailer technology. This advanced camera system allows divers to look in their rear-view mirror and see through their attached cargo, completely removing the blind spot created when towing, making overtaking safer and improving the ease of manoeuvring. 
The Transparent Trailer system combines the video feed from the vehicle's existing reversing camera with a video from a wireless camera placed on the rear of the trailer or horsebox. The two video feeds are combined to create live video images that make the trailer appear see-through. 
When the trailer is coupled to the towing car, the high quality live video feed will automatically appear in the rear view mirror inside the vehicle. When reversing, the driver would also be able to view the camera feed from the back of the caravan or trailer through the infotainment screen, with guidance lines calibrated to help reverse both car and trailer.
Introducing Transparent Trailer & Cargo Sense
2. Cargo Sense
This technology will be particularly valuable to the thousands of you who transport horses to equestrian events all over the world every year. Cargo Sense is a pioneering idea for an in-car trailer monitoring system, designed to optimise cargo loading for safer towing. The system combines a remote video camera inside the trailer and a mat of pressure sensors that link wirelessly to the towing vehicle. 
It will help customers load valuable cargo evenly and securely, and help to protect your cargo – from antique furniture to a live horse – from potential danger or damage while you driving. The sensors on the floor of the trailer or horse box could alert the driver if their load is moving in an unexpected way or their horse is in distress – minimising the potential for road accidents and injuries to horse or handler. In the event of a potential issue being detected, a "Check Cargo" warning would be sent to the driver and live video footage from the trailer shown through infotainment screen. 
Once you are at your destination, the Cargo Sense App would allow you to check the status of your trailer and load remotely. This system could automatically alert you via SMS if your horse is distressed, if the temperature in the horsebox exceeds a safe level, or if the trailer is being tampered with, offering piece of mind.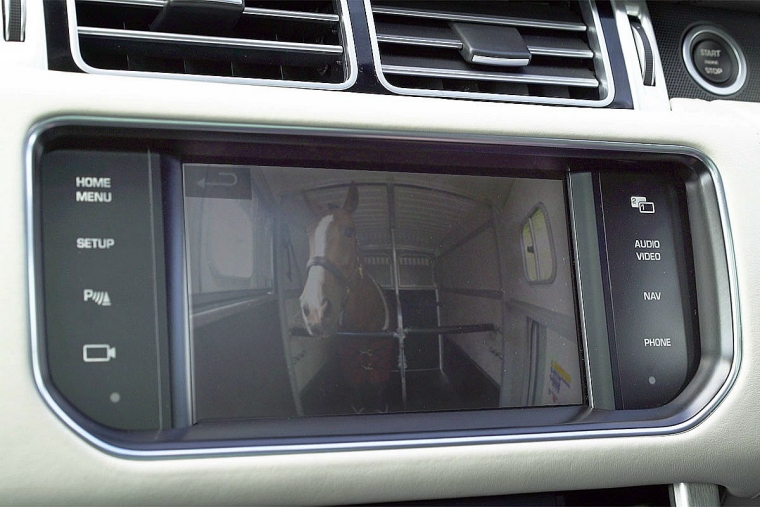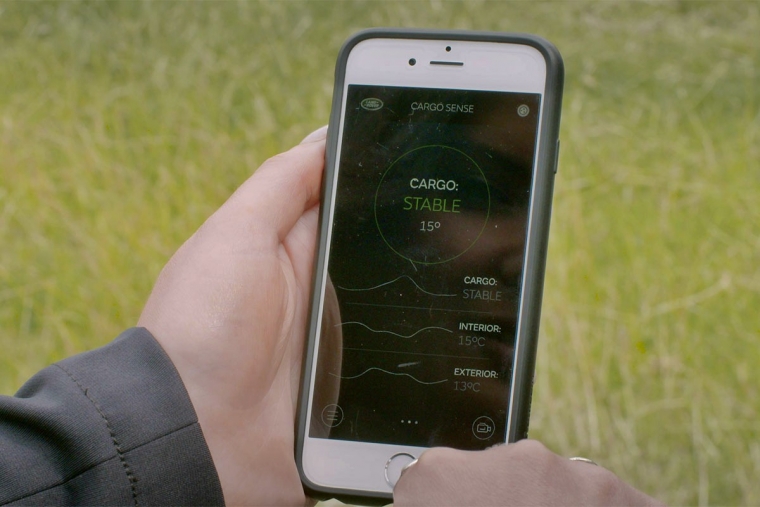 3. Remote Control Car
With our Remote Control Car technology, you will be able to drive your Land Rover with a smartphone from outside the car. Your car is wirelessly connected to your phone, allowing you to control the steering, brakes and accelerator on-screen via a bespoke app.  
This could be particularly handy if you need to check precise car position from all sides. For example, you could use the app to reverse the car out of a parking space if someone has parked too close for you to open your door. Alternatively, you could become your own off-road spotter, guiding the car over challenging off-road obstacles. By walking alongside the car, you could continually check ramp, approach and departure angles and allow precise positioning of the vehicle when rock crawling. It could also be an invaluable aid when the car is fording a stream or negotiating terrain made slippery by mud or snow. 
The vehicle will only move at a top speed of 4mph, and if you drop your phone, lift your fingers off the screen, or move more than 10m away, the car will stop automatically.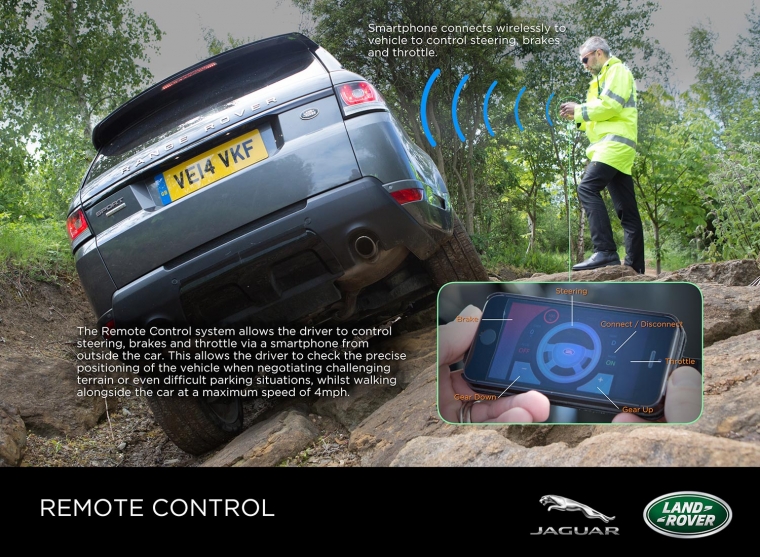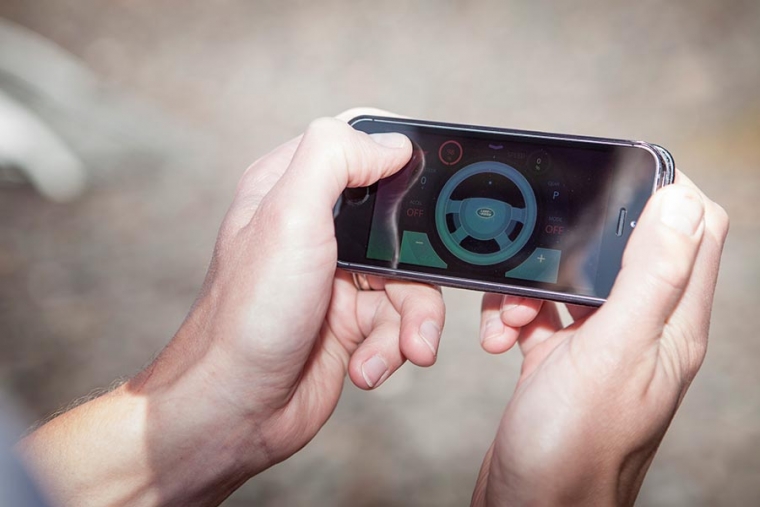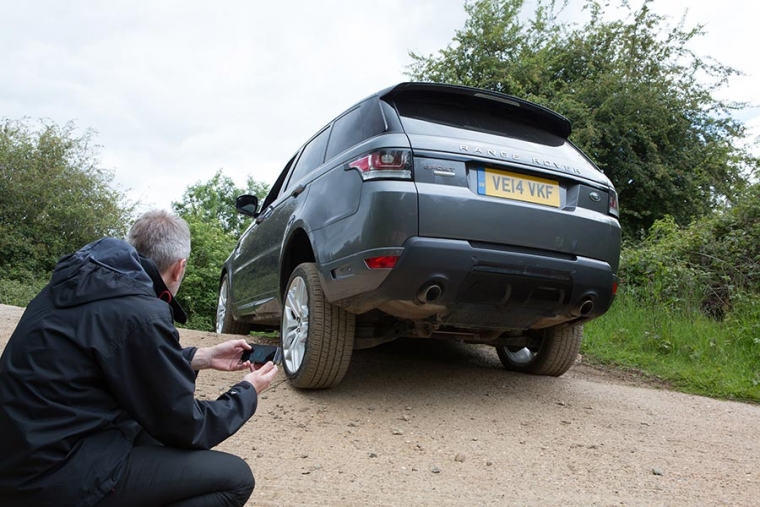 4. Multi-Point Turn Car
This innovative technology will make overcoming awkward or tedious many-point turns a thing of the past. The Multi-Point Turn Car can drive itself autonomously through 180 degrees to point in the opposite direction. Using a range of sensors to map the area surrounding the car, the system makes intelligent decisions such as assessing available space and avoiding pedestrians, vehicles or other objects blocking its path. It will make as many forward and back movements as necessary to complete the manoeuvre, taking over steering, throttle and brakes as it does. But you stay in control. If you want to override the multi-point turn manoeuvre, you can, by touching the brake or steering. 
Range Rover Sport: Remote Control Car and Multi-Point Turn Car
5. Haptic Accelerator Pedal
We want to make sure you're always alerted to potential road hazards, but we don't want to overload you with visual warnings. Instead the Haptic Accelerator Pedal (HAP) will use touch to communicate with you and trigger a reaction without you needing to take your eyes off the road. 
Haptic feedback is created via a small mechanical device called an actuator that sits at the top of the accelerator pedal arm and allows for sensations to be passed through to the foot of the driver. The technology also uses a torque motor that can create resistance in the pedal feel. This means the driver could feel vibrations, pulses or 'force feedback' (essentially a stiffer pedal). In time, you will be able to modify and set your own program of haptic alerts. 
Research suggests that haptic feedback improves driver response times. The HAP is the first new technology to be demonstrated as a result of Jaguar Land Rover's pioneering Bike Sense research project, which is committed to preventing accidents involving bicycles and motorbikes in the UK by developing colour, sound and touch alerts for drivers.
6. Pothole Alert
Punctures, wheel arches, suspension damage… potholes are estimated to cost £2.8bn of vehicle damage in the UK each year. But we have a cutting-edge solution. We're researching a new connected car technology that will allow your Land Rover to identify the location and severity of potholes, broken drains and manhole covers, then share this data via the cloud with other vehicles and road authorities. 
Sophisticated sensors in the wheels and on the body of our vehicles can identify potholes under the wheel, so the car can change its suspension settings in milliseconds for a more comfortable ride. This instantaneous change is made possible in Land Rovers by MagneRide, a high-performance, semi-active suspension control system that responds in real time to road conditions using sensors that monitor body and wheel motion.
In the future, we want to install advanced, forward-facing stereo digital cameras to scan to the road ahead – which could eventually allow the car to autonomously and safely guide itself around a pothole. In the meantime, sharing road data will allow fellow Land Rover drivers to be warned of upcoming potholes and be able to slow down or avoid the danger.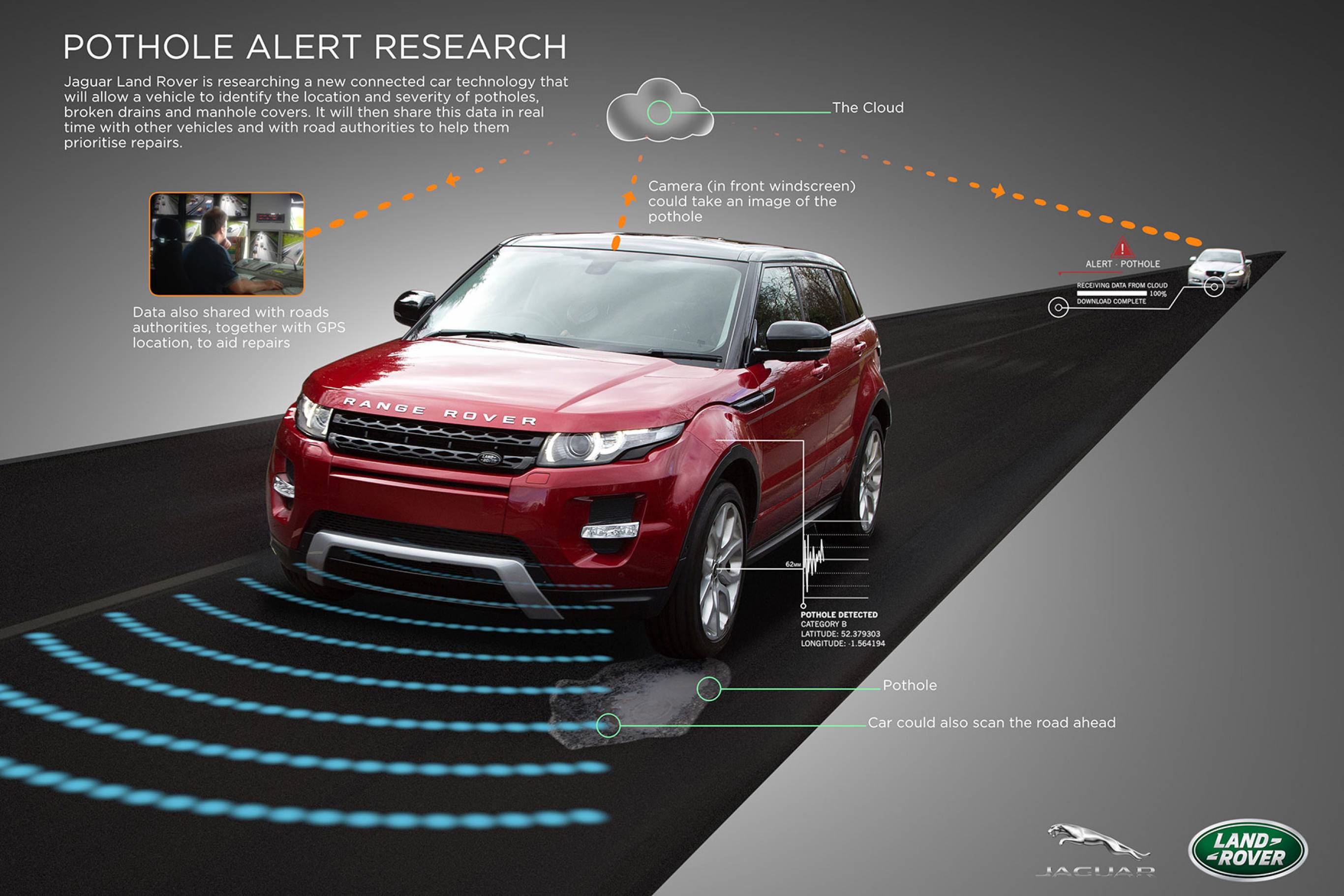 7. Mind Sense
We're also researching how we could measure a driver's brainwaves to constantly monitor their alertness. Head-based monitoring system are typically used to monitor brainwaves, but we recognise these could be impractical to wear while driving. Instead, our Mind Sense technology is experimenting with picking up brain signal through the steering wheel, via the driver's hands. 
Driver Attention-Monitoring technology has the huge potential for increasing road safety. If Mind Sense does not detect a surge in brain activity following the car displaying a warning icon or sound, then it could display it again, or communicate with the driver in a different way – such as a vibrating wheel or pedal – to ensure the driver has a greater chance of recognising the warning.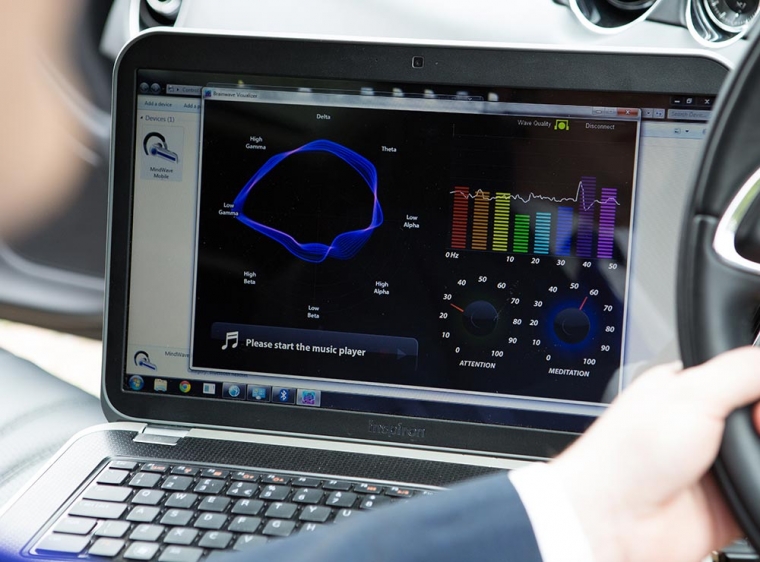 8. Driver Wellness Monitoring
Another technology which could vastly improve auto safety, Driver Wellness Monitoring uses a medical-grade sensor to track your heart and breathing rate while driving. It allows the car to monitor your stress levels, and then react to reduce stress, perhaps by changing mood lighting, climate control or music. It could also identify a serious medical emergency which would incapacitate the driver. In the future, we hope to develop technology to allow the car to autonomously bring itself to a safe stop, and then contact emergency services with a GPS location.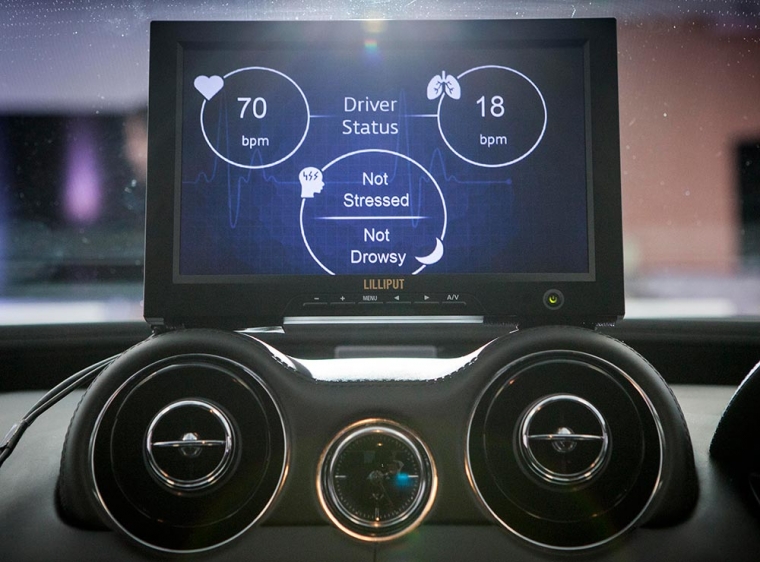 9. Predictive Touch and Mid-Air Haptics
The less distraction to a driver caused by changing radio station or switching to your iPod, the better. That's why we're testing state-of-the-art technology that will increase the speed and efficiency of interacting with Land Rover's Infotainment system – so you can keep your eyes on the road. 
Using in-car cameras and path tracking filters, our Predictive Touch technology predicts what you want to press based on the trajectory of your finger and your last five movements. The button is activated mid-air, and tests show this increases the speed of successful selection by 22 per cent. We are also exploring the use of mid-air haptics, which uses ultrasound to 'tap' your finger to let you know a button has been selected – further reducing the need to look away from the road.
10. Self-Learning Car
Imagine a car that could get to know you almost as well as you know yourself – and look after in-car tasks to allow you to focus on enjoying your drive. We're working to develop a truly intelligent car that will learn a driver's preferences and predict their activity to offer a completely personalised driving experience. 
The car would track data patterns, such as the radio station you put on each morning, or the temperature you set the climate control to, and build a profile of you as a driver. Eventually, more sophisticated data sources such as social media and driver-facing cameras could be used to finesse the profile. The Self-Learning Car would make its first predictions after two weeks – then continue to refine them indefinitely. By reducing driver distraction, the technology would also reduce the risk of accidents. As always, you'll remain in control and be able to manually override the self-learning car's settings.
Please note that the technologies outlined below are in development for the future and are not currently available on Land Rover models. 
Follow our Twitter and Facebook pages and visit landrover.co.uk and live.landrover.co.uk for the latest news on Land Rover technology.